I finished painting the top cabinets and shelves! It looks amazing and was a total bitch to do because of the paint I chose. We'll get to that, but let's see some pics.
This is a much better pic of how fabulous the sharpie marker subway tile turned out! :)
not sure why the doors look different in this one other than I suck at photography, they match in real life.


Now, my paint choice. I primed with BIN Zinzer Primer...it's the shit. Then I decided to roll the cabinet tops with Krylon roll on paint. This wasn't a giant mistake, like I have to redo them, but a giant time suck and pain in the ass. It drips, bad. Luckily I caught most of the drips, but it took 6 thin coats of paint. The paint itself is very thin and in using it you have to use tons of coats to reach your desired results. It leaves marks when you roll it then look a little texture-y to me. Don't worry it self levels and these don't stay.
The reason I picked this paint was so I could spray paint the doors and they would have the same finish and color. I should have just brushed the doors and rolled them, but hindsight is 20/20.
The doors painted super fast though. It took me about a half hour total after the primer dried to spray the doors to completely cover them. However it took forever to paint the frames, so next time I will be rolling all of it with better paint, much faster.
Now I have 7 of these stools that Mr. TSL brought home and had in the iron trailer (scrap to take to the recycler) I found one while I was looking for something and he said he had 6 more the school was throwing away. No freaking way. I might add the tops were broken and my mr fixed them for me.
They look like this: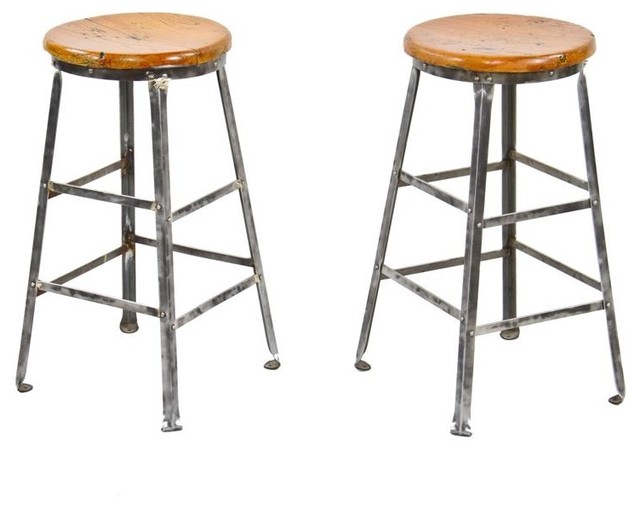 my stools have a dark gray metal frame and need to be painted. These sell for
$550 for the pair
, so 7 for free is one helluva deal.
I could leave them with the natural finish and they would look similar to this because the island will be black.
These are the choices:
While I love the orange stools, I am thinking yellow or army green would look better with the red lantern over the island. Which soon will be getting a makeover! I am thrilled to start the kitchen and can't wait to finish it!
So what are you thoughts on the stools?
xoxo